CORN HitLights RGB Multicolor Changing SMD5050 LED Light Strip Kit - 150 LEDs, 16.4 Ft Roll, Cut to Length, Includes 60W Adapter and 44 Key Controller - Color Changing, 149 Lumens per foot
Include 44 Key Remote, connector, 60W adapter
Compatible w/ all 5050 Strip Lights
16.4 Foot Roll
150 5050 RGB LEDs, Cut every 3 LED
149 Lumens per foot
IP-30 (Indoor)
Backed with 3M tape
Our Flexible RGB LED Strip Light is designed to establish ambiance with incredibly efficient, full-color LED lighting. Flexible RGB LED Light Strips can be used creatively for interior and exterior decorative lighting and look great anywhere for a splash of color. These color changing LED lights bring lots of style and color to a living room, recreation room, home entertainment center, or to any bar, club, or special event.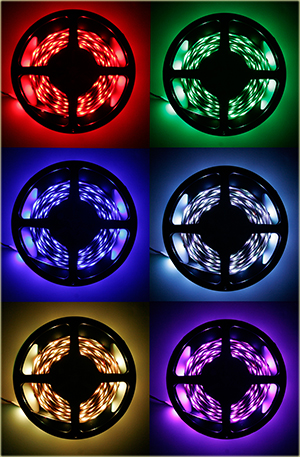 Weatherproof – perfect outdoor solution


Hitlights weatherproof RGB multicolor strips can be used for applications or areas where the strips may be exposed to humidity and occasional splashing, and offer a perfect solution for many outdoor projects including garden lights, porches, decks, patio areas, etc.
Low power consumption with long life time


The HitLights Color Changing RGB Regular Density LED Strip is simple to install, and adds a splash of color to nearly any area in and around the home. This low-voltage color changing LED lighting strip produces little heat, which makes the strip safe to touch so you don't have to worry about shock or fire danger. It has a lifespan of over 50,000 hours and consumes only 2 Watts per foot, boasting extremely low power consumption which is great for the environment and your electric bill!
Easy friendly installation


The easy-plug 4-pin ends on our LED strip make it easy to plug the strip into an RGB LED controller, which allows you to control the color-changing spool. Because they can be cut and have 3M tape on the back, the flexible RGB LED light fits well into customized installations and is perfect for display cases, etc.
Wireless IR control panel with DIY feature


This 44 Key IR RGB Controller allows you to create stunning light effects that are limited only by your imagination! Install the receiver between a power adapter and LED Light Strip, and the fun begins! The Infrared Remote Control allows you to choose from 20 colors, set the brightness, and select from 6 pre-programmed color cycle modes!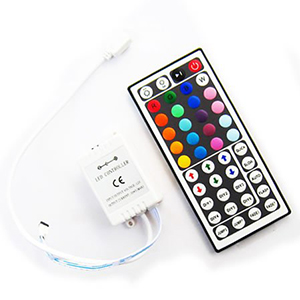 Another amazing feature of the 44 Key IR RGB Controller is the DIY (Do It Yourself) buttons which allows you to create your own color and save 6 custom colors to your controller! This is done by first pushing the DIY button, which will enter the DIY color mode, from here you can adjust the color with the 6 up and down arrow keys to increase or decrease the red, green, and blue giving you thousands of colors to choose from! You can save the color which you have adjusted by pressing the DIY key once again. When next time this key is pressed, it will show the color you saved last time!